https://www.stltoday.com/news/local/...d557c5d92.html

Driver charged with DWI in St. Charles County crash that killed 4 on Valentine's Day
6/16/2020
ST. CHARLES ó
A 29-year-old man is charged with several counts of driving while intoxicated for causing a collision four months ago that killed four people
, St. Charles County Prosecutor Tim Lohmar said Monday.
Authorities have identified the man who they say was at fault for the Feb. 14 crash as
Elijah Carlton Henderson,
of the St. Charles area.
The Missouri Highway Patrolís probable cause statement, released by Lohmarís office Monday, said Henderson is charged with four counts of driving while intoxicated, causing death. Each offense is a felony punishable by up to 15 years in prison.
Henderson was not in custody Monday.
The probable cause statement, dated Friday, said
blood tests revealed THC, ketamine and norketamine in his system
. THC is the psychoactive component of marijuana. Henderson was given ketamine in the ambulance, according to Trooper Clay Knox of the highway patrol.

The collision happened on Highway 40 (Interstate 64), west of Highway 364, when Hendersonís eastbound pickup crossed the median cable barrier and veered into the westbound lanes, hitting a minivan carrying four people,
authorities have said.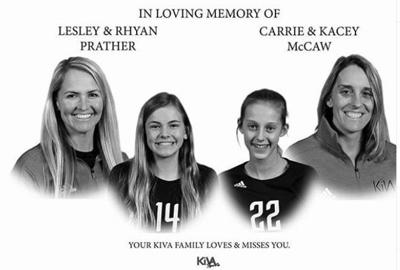 All four of those people were killed: Carrie McCaw, 44, and her daughter Kacey McCaw, 12, and Lesley Prather, 40, and her daughter Rhyan Prather, 12, all of Louisville, Kentucky. They were heading to a weekend volleyball tournament in Kansas City.
Lesley Prather was a Louisville firefighter. Firefighters displayed American flags along Interstate 64 near Louisville as the bodies of the four victims were returned home in a procession in the days after the collision.