https://losangeles.cbslocal.com/2020...-it-to-beaver/
Ken Osmond, Eddie Haskell On 'Leave It To Beaver,' Dies At 76
May 18, 2020 at 2:12 pm
LOS ANGELES (CBSLA/AP) —
Ken Osmond, who played Eddie Haskell on "Leave It to Beaver," died in Los Angeles Monday at 76, his family confirmed.

"He was an incredibly kind and wonderful father," son Eric Osmond said in a statement. "He had his family gathered around him when he passed. He was loved and will be very missed."
Ken Osmond's Eddie Haskell stood out among many memorable characters on the classic family sitcom "Leave it to Beaver," which ran from 1957 to 1963 on CBS and ABC, but had a decades-long life of reruns and revivals.
"He was a terrific guy, he was a terrific actor and his character is probably one that will last forever," Dow told The Associated Press on Monday.
"He was one of the few guys on the show who really played a character and created it," Dow added, chuckling as he mimicked the evil laugh Osmond would unleash when his character was launching one nefarious scheme or another and trying to pull Wally and his younger brother Beaver into it.
Osmond was born in Glendale, California, to a carpenter father and a mother who wanted to get him into acting. He got his first role at age 4, working in commercials and as a film extra, and got his first speaking role at 9, appearing mostly in small guest parts on TV series.
Osmond returned to making guest appearances on TV shows including "The Munsters" in the late 1960s but found he was so identified with Eddie Haskell that it was hard to land roles.

Osmond gave up acting and become a Los Angeles police officer.

According to The Hollywood Reporter, Osmond spent 18 years with the Los Angeles Police Department before being shot three times by a suspected car thief in 1980. He was left severely wounded and effectively ending his days on the job.
"I was very much typecast. It's a death sentence," Osmond told radio host Stu Stoshak in a 2008 interview on "Stu's Show." "I'm not complaining because Eddie's been too good to me, but I found work hard to come by. In 1968, I bought my first house, in '69 I got married, and we were going to start a family and I needed a job, so I went out and signed up for the LAPD."
Dow, who was a lifelong friend of Osmond's said "His motorcycle cop stories are terrific."
He later returned to TV in 1983 appearing in the TV movie "Still the Beaver."
Osmond then reprised his role in "The New Leave It to Beaver," from 1983 to 1989. He went on to appear in "Happy Days," and the TV movie "High School USA."
In 2014 he co-authored the memoir "Eddie: The Life and Times of America's Preeminent Bad Boy."
Osmond and wife Sandra Purdy had two sons, Eric and Christian.
No indication of the cause was given.
https://www.hollywoodreporter.com/ne...was-76-1246683
Ken Osmond, the Mischievous Eddie Haskell on 'Leave It to Beaver,' Dies at 76
Quote:
In 1980, he and his partner were on motorcycle patrol for drunken drivers when they came upon a stolen taxi driven by Albert Cunningham. Following a crash and a chase on foot, Cunningham shot Osmond; his bulletproof vest stopped two bullets, and a third was deflected by his belt buckle.

"I saw a flash of light and the next thing I knew, I was flat on my back on the sidewalk, 10 to 15 feet away," Osmond testified during the penalty phase of Cunningham's murder trial in 1988. "I was not able to move. I thought I was dying." He said the shooting led to clinical depression.
https://supernaught.com/products/al-...rison-postcard
Al Cunningham Signed Prison Postcard
$ 29.00
Albert Cunningham shot child actor, Officer Ken Osmond aka Eddie Haskell from the TV show Leave it to Beaver. Osmond survived the shooting and died on May 18, 2020.
Cunningham later murdered another man and he was sentenced to death.

Original prison mailed postcard send from death row hand dated March 2012 with a message to the recipient and hand signed, Love, Al.
http://www.cncpunishment.com/forums/...rnia-Death-Row
Albert Cunningham, Jr. - California Death Row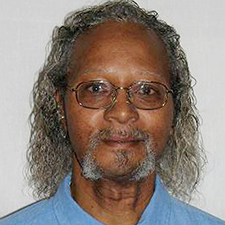 Facts of the Crime:
Sentenced to death in Los Angeles County on June 16, 1989 for the December 2, 1985 murder of Carmen Treto.
The prosecution's evidence established that Cunningham, wearing a distinctive three-piece suit, went to a bar in Pasadena where the victims, Carmen Treto and Juan Cebreros, were socializing and consuming alcoholic beverages. Several times during the evening, Treto displayed a large amount of cash. At approximately 2:00 a.m., the victims left the bar. Cebreros started for home, decided that Treto was too drunk to drive, and then returned for him. After some discussion, the two proceeded to the parking lot behind the bar, where they were about to enter Treto's vehicle. Cunningham approached the two, drew a gun, demanded Treto's cash, and then fatally shot Treto. Cebreros attempted to flee, and Cunningham shot at him, wounding him in the thigh. Cunningham fled in Treto's automobile.