https://www.waff.com/2020/04/27/poli...-hospitalized/
BRPD identifies two officers shot Sunday; fallen officer honored with procession Tuesday
BRPD officers Lt. Glenn Hutto, Jr. and Cpl. Derrick Maglone were shot while questioning a murder suspect on April 26. Hutto died from his injuries.
(Source: BRPD)
Updated April 28 at 1:35 PM
BATON ROUGE, La. (WAFB) -
One of two Baton Rouge police officers involved in a shooting Sunday, April 26 has died.
BRPD Chief Murphy Paul has released the name of t
he deceased officer Lt. Glenn Dale Hutto, Jr.
had been on the force for 21 years. The Baton Rouge Police Department posthumously promoted Hutto to the rank of lieutenant after the shooting.

The other officer, Cpl. Derrick Maglone, a seven-year veteran of the force, is recovering from his injuries
at Our Lady of the Lake Medical Center.
BRPD and other area police and fire departments held a funeral procession for Lt. Hutto Tuesday, April 28. The funeral procession traveled from the coroner's office on Harding Boulevard to Rabenhorst Funeral Home on Government Street.
The suspect, Ronnie Kato, 36, is in custody.
Per court records, Kato had his first appearance Monday morning before Judge Richard Anderson and the court ordered he be held without bond.
District Attorney Hillar Moore announced Monday, April 27 his office will be seeking the death penalty in the case against Kato.
"My office rarely seeks the death penalty. We do so only in the most serious of cases. The facts as alleged in the affidavits and from information that I have learned are egregious.," Moore said. "I obviously have not had the opportunity to speak with the victims' families and do not know their feelings but hope to do so when it is appropriate. As for me and my office, based on what I know now, I believe that pursuing this matter as a death penalty case is what justice would demand. "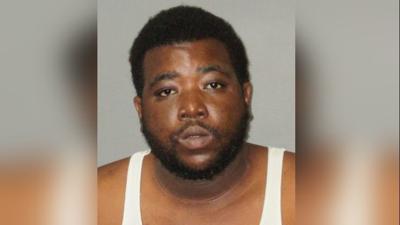 Chief Paul says the officers were called to the 1800 block of Pamela Drive around 9:30 a.m. Sunday, April 26.
Kato is accused of killing Curtis Richardson, 58
, at that location earlier in the day. A source familiar with the case says Kato and Richardson are connected through one of Richardson's relatives.
Kato fled the scene before officers could arrive, officials say.
The two officers received a tip Kato was hiding at a home
in the 3150 block of Conrad Street, in the area of Winbourne Avenue and North Foster.
While they were checking the scene just after 12:30 p.m.,
Kato fired upon them.

He barricaded himself in the home as more officers surrounded the scene. Around 4 p.m., an eruption of gunfire and screams rang out from near the house. It was followed by three or four more gunshots.
NEW VIDEO: Multiple shots were fired around 4 p.m. at the standoff scene off Winbourne Avenue where two officers were shot earlier today.
It was unclear who fired the shots.
https://t.co/sJcd1Hjk4o
pic.twitter.com/sgcTGYPM2B
— WAFB (@WAFB) April 26, 2020
Kato was later taken into custody without incident after a four-hour standoff,
the police chief says.
He will be charged with first-degree-murder for Richardson's death. Charges for shooting the officers are still pending.
About 40 officers gathered on the second floor of the hospital to pray for the wounded officers, The Advocate newspaper reported. Those comrades stood watch as the deceased officer was taken from the hospital.
PRAYERS FOR OUR OFFICERS: His comrades stood watch as the fallen BRPD officer left Our Lady of the Lake Medical Center. Thank you for your service.
https://t.co/2EsDNvSj3e
https://t.co/5pfeSkhc7L
— WAFB (@WAFB) April 27, 2020
Baton Rouge police officers hold a procession for a 21-year veteran officer killed Sunday while investigating a homicide. A second officer is in the hospital "fighting for their life."
https://bit.ly/2KAyGGj
Posted by WAFB Channel 9 on Sunday, April 26, 2020
https://www.ktbs.com/news/baton-roug...5e1c10025.html
Gunman stood over officer and fired multiple times, affidavit says
BATON ROUGE, La. – A Baton Rouge police officer was killed in a Sunday afternoon shooting and a second officer was gravely injured.
Police say the gunman responsible also killed at least one other person earlier that day during a domestic dispute.
The two officers were shot after responding to reports of gunfire and encountering the gunman on Conrad Drive, near the corner of Winbourne Avenue and North Foster. The officers were shot around 12:30 Sunday afternoon.
According to official police documents
Ronnie Kato, 36, a man with a history of making threats against the police, has been identified as the shooter.

An affidavit report says after fatally shooting one of the officers,
Kato stood over the deceased officer's body and continued to shoot him multiple times with an assault-style rifle.
Authorities say Kato's actions corresponded with earlier threats he'd made against officers of the law.
According to official documents,
in 2017, Kato's girlfriend told authorities he'd threatened to "Gavin Long" any police officers who she called, a reference the man who shot and killed three officers in an ambush on Airline Highway in July 2016.
Police spent four hours in a standoff with Kato at the Conrad Drive home.
Earlier in the day, Kato had used the same assault-style rifle during a deadly domestic violence-related encounter on North Pamela Drive that left Curtis Richardson, 58, dead.
https://gunmemorial.org/2020/04/26/curtis-richardson
Curtis Richardson, age 58