https://www.ksdk.com/article/news/cr...4-09f1fc2f8b34

'I've been failed by the system' | Teen walks free after neighbor says he broke her nose, left her in bruises
"He comes back with a weapon. He is on top of me. There was blood everywhere. I was literally fighting for my life at that point," she told 5 On Your Side
Updated: 10:02 PM CST February 24, 2020
ST. LOUIS —
A St. Louis woman feels like the judicial system failed her, after she said her teenage neighbor attacked her and walked away free.

Alicia Clarke
said exactly a week ago she went for a quick run outside her south city home. When she came back, she noticed her shoes had been moved to a different spot and her cell phone was gone.
From there, she used Find My iPhone to search for it. The location said it was on her property grid. She used her work phone to call it.
"I open my back door to call it and I hear it in my neighbor's backyard behind me," Clarke said.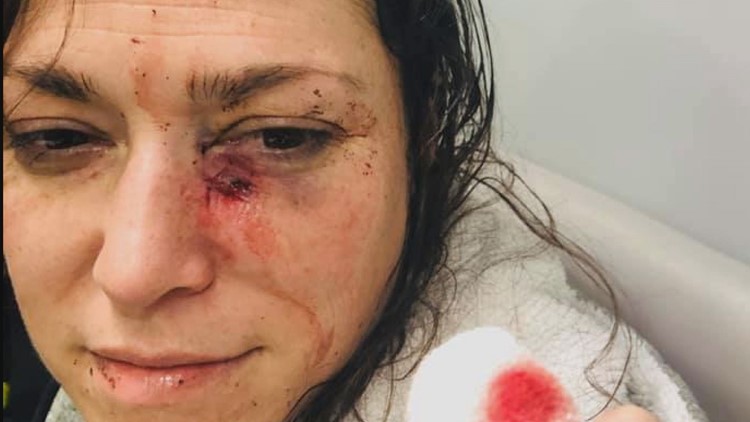 Clarke said she hopped the fence to get it and jumped back over to her yard. Another neighbor yelled out to her and said, "Hey, I told him, 'I know you did this and I'm calling the police!'"
Clarke said that's when
the 6-foot teen jumped the fence and tackled her.

"He knocked me down, pulling my hair, kicking,"
she recalled.
Before he ran off, she said he grabbed her personal cell phone again. She used her work phone to call police.
"I am on the phone with St. Louis police dispatch, making my way to my backdoor, when he comes back with a weapon. He is on top of me. There was blood everywhere. I was literally fighting for my life at that point," she told 5 On Your Side.
Clarke said as he was on her back, he stabbed her in the head and face with a metal rod.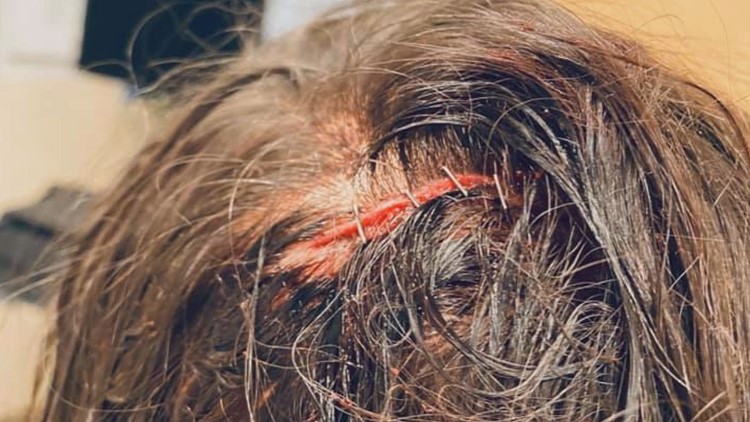 She was able to get the weapon out of his hand and ran inside. He ran away again, taking her second cell phone this time.
Police arrested the teen on charges of first-degree robbery, second-degree burglary and third-degree assault.

Clarke thought the fight was over. But when she went to juvenile court a few days later, she learned his case was dismissed.
"The most hurtful thing of all of this, is the dropped charges. That was much more hurtful than the physical assault," Clarke said.
A juvenile court official said a staff attorney dropped the case before even going to the judge. The courts weren't able to comment specifically on this incident, since it involves a juvenile.
Clarke said she was told her accused attacker was found incompetent to aid in his own defense because he has an IQ of 49.
A spokeswoman said in general, circumstances like these leave the court with few options when it comes to a criminal case.
"In those instances, we work with child guardian and agencies to help with services outside the court system," 5 On Your Side was told.
As for the victim, they said they offer victim services.
"It's not feeling safe and honestly feeling like I've been failed by the system," Clarke said.
She believes there needs to be a change.
"This is going to happen again, and that's my number one priority that it doesn't," she said.
Another neighbor who didn't want to go on camera said the teen has also broken into her home and believes he needs to be held accountable.
Clarke said the teen has broken into her car three times, but this has been the worst of it. She has a great support system, so she isn't forced to continue living where she said she was attacked.
But she wants to help others and send a message to the city that more needs to be done.
A Facebook post describing the attack has almost 8,000 shares and about 2,500 comments discussing the incident.
Post by andrea.clarkemcdonald.
https://www.facebook.com/andrea.clar...05136413842624
Andrea Clarke Flatley is with Christine Clarke Dinwiddie and Alicia Clarke.
February 20 at 10:49 AM ·
This is my sister. On Monday night she was attacked by her 15 year old neighbor. He stabbed her in the head and face with a screw driver. She fought him off and was able to escape to a neighbors house to call the police. The boy was taken into police custody and brought to juvenile detention center. No clear motive was ever established.

Alicia has a broken nose, staples in her head and stitches to the puncture wound under her eye.

Hassan is a 15 year old refugee from Somalia
who lives with his family. He is 6' and approx 175lbs, much larger than my sister.
He has broken into Alicia's car 3 different times and broken into another neighbors house. The police were involved every single time and reported that nothing could be done since he was a minor. Surely this time would be different, though.
This morning we went to the juvenile courts building for the deposition hearing where we would find out if he would be held in custody while he awaits his court date, or if he would be allowed to return home. It had been explained to alicia by the victims advocate that the 3 charges he was facing each independently carry a strong recommendation of remaining detained; all three compiled was almost a sure thing. We arrived feeling very hopeful.
On arrival, we learned from that same patient advocate that
Hassan's IQ is 49.
This makes him incompetent to aid in his own defense,
therefore all charges were formally dismissed by the prosecutor, Sakina Ahmad
. We never entered a courtroom, saw a judge, nothing. Hassan was able to go home with a family member. He likely left the building as a free person before we even learned all the above information.
The prosecutor sympathized with our frustration and explained that because he is a mentally handicapped, juvenile refugee, every safeguard available is to his benefit and to Alicia's detriment. She went on to tell us, VERBATIM, that even if alicia had been KILLED, the outcome would be the same and that this case would be dismissed. Now, Go ahead and read that last sentence again.
Right!!!
She said the best option for Alicia's safety is to get a restraining order. Luckily for us, alicia initiated that process the day after the attack. When asked what would happen if he violates the protection order, she explained the following scenario:
1. Call the police
2. He will be taken into custody
3. He will be released promptly and the cycle will perpetuate
Thank God Alicia has a solid support system so she isn't forced to live next door to her attacker and wait for the next assault.
Don't worry, we're not done.
#wearentdone
Addendum: I want to keep this post public to spread awareness of the flaws in our system. I do not want to incite or encourage violence. Reading several comments has lead me to share this knowledge:
1: alicia plans on getting her CC
2: she already has a 90lb pit pull who is very sweet and protective as hell. However, he was inside the house when this kid attacked alicia in her back yard, so he wasn't able to do much.
3: while I understand the propensity to want to physically harm this boy, that is completely ineffective in exacting REAL change. The problem Is much bigger than this singular event of #aliciaandHassan
4: If all you're going to write is "kill the f**ker", save it. We already have read it 85xxx times.
Addendum #2 (to squash "fake news" rumors)
1: this happened in south St. Louis City, Missouri on mon 2/17 at approx 645pm (good enough patti ro??)
2: there has yet to be any media coverage on this so I have no links to share.
3: there is no court case to share since it never made it in front of a judge and was thrown out.
4: no doubt there will further addendums as people constantly have copious amounts of advice on how we should be managing this post 🙄
Addendum #3
1. Not surprisingly, people
Are questioning the validity of this story. I get it...it's THAT crazy. As I stated in addendum #2, I don't have much to offer aside from pictures, although this is pretty fresh and it seems like some Sort of media outlet would be on the case soon.
Addendum#4
1: photo of police report added to the photos, for all you healthy skeptics out there.
Addendum #5
1. Official media coverage. If you read the article posted with it you will see the prosecutor dropped charges without even bringing it to a judge.