http://www.abc12.com/home/headlines/...388341532.html
Grand Blanc woman charged with shooting 2 women at apartment complex
Updated: Fri 9:36 AM, Jul 29, 2016
GRAND BLANC (WJRT) - UPDATE: (07/29/16) -
A Grand Blanc Woman is now charged with the shooting of two other women at the Grand Oaks Apartments.

The attack left Tamara Johnson dead and Lyric Work on life support.
We got our first look at that woman as she was charged with four felonies, Friday morning.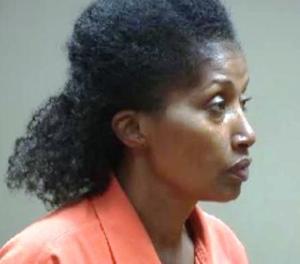 Jaquelyn Tyson appeared in front of judge on first degree murder, assault with intent to murder and two felony firearms charges.

The 54 year old was a tenant at the Grand Oak Apartments and allegedly walked into the complex office building and opened fire on the two employees inside - Johnson and Work.
Genesee County Prosecutor David Leyton tells us investigators believe
the two women were targeted.
"At some point in time, the defendant said to a person who was not a victim, 'I'm not here for you, I'm not here for you,'" Leyton said.
Police arrived just in time to see Tyson throw a gun into the bushes - a gun that was legally registered to her.
Forty-five-year-old Johnson died at the hospital and 20-year-old Work, who was pregnant, had an emergency C-section to save her baby girl.
Because Work is not expected to survive, Leyton says the assault with intent to murder count would be changed to first degree murder.
As for a motive, Investigators are looking into
a landlord tenant dispute in the Grand Blanc courts earlier this year a
nd also the possibility that Tyson had mental health issues.
Bond was denied in the case. If convicted of first degree murder, Tyson could face life in prison without parole.
Tyson is scheduled to be back in court for a probable cause conference on Aug. 11.
--
UPDATE: (07/28/16) - Since two employees at a Grand Blanc apartment complex were gunned down by a tenant, there hasn't been much released on a motive in the shooting.
Genesee County Prosecutor David Leyton says it likely has something to do with a landlord-tenant dispute from earlier this year.
"There is some information that there was a landlord tenant dispute in the Grand Blanc courts earlier this year. We are trying to determine if that is the genesis for this case. It appears to be the case, but we are still working on that angle," Leyton said.
Charges were expected to come Thursday, but it likely won't happen until Friday morning.
According to police, 20-year-old Lyric Work is being kept alive so that her organs can be harvested. People close to her say that was her wish.
Her baby girl is expected to survive.