http://6abc.com/entertainment/42-hur...ncert/1459208/
42 hurt in crowd surge, railing collapse at Snoop Dogg, Wiz Khalifa concert
Saturday, August 06, 2016 08:14AM
CAMDEN, N.J. (WPVI) --
At least 42 people were taken to area hospitals after a surging crowd caused a railing to collapse at a concert headlined by rappers Snoop Dogg and Wiz Khalifa in Camden, New Jersey.
Chopper 6 was over the BB&T Pavilion around 10:25 p.m. Friday.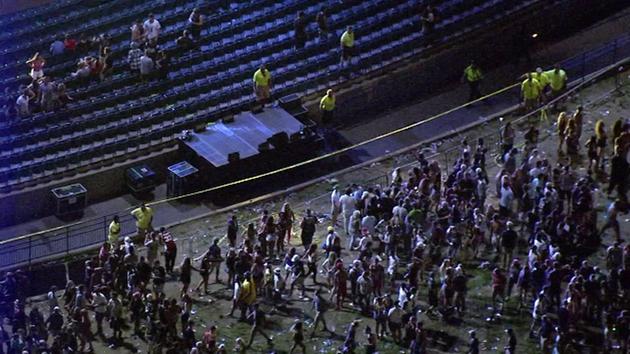 Authorities tell Action News
a stretch of railing separating the crowd from a small temporary stage gave way when fans surged toward the stage.

It happened as Snoop Dog was performing on that stage.

"Everyone started running towards him, as, like, fans and stuff would do,"
said Aubrey Bernanti of Lumberton, N.J.
Cell phone video recorded during the concert and posted to the Action News Facebook page captured the moment the surge happened.
Witnesses said
concertgoers piled on top of each other.
"Everyone all of a sudden started pushing," said Abbey Hecht of Lower Merion, Pa. "And the gate broke. And all of a sudden I fell like six or seven feet. And I luckily fell on top of someone so I didn't hit the concrete. But there were, like, maybe four or five people on top of me and it was so hard to breathe. I couldn't move. I literally thought I was dying. It was so scary."
The injured were taken to five different hospitals, including Cooper University Hospital, Our Lady of Lourdes Medical Center and Virtua Hospital in Camden, and Inspira Medical Center and Kennedy University Hospital in Cherry Hill.
http://www.nj.com/news/index.ssf/201...epage-featured
Madysen
‏@madysenmclaugh1
@SnoopDogg @wizkhalifa bro best concert ever‼️‼️‼️