http://missoulian.com/news/local/arr...20966f97a.html
Arrests made in Missoula casino robbery, kidnapping
5/28/16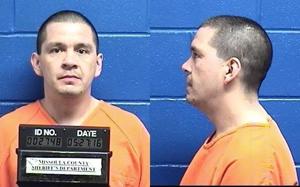 Two men have been arrested, accused of robbing Deano's Casino early Friday morning, taking a Washington family hostage and firing at police.

Thomas Earl Dempsey, 36
, was booked into Missoula County Jail at 9:18 p.m. Friday, charged with robbery and aggravated kidnapping.
Nick West, 3
8, was booked at 4:29 a.m. Saturday, charged with aggravated kidnapping. Both are scheduled to appear in court at 2:30 p.m. Tuesday.
The Missoula County Sheriff's Office hours-long investigation led them to Dempsey and West in Missoula Friday night and Saturday morning. The pair are accused of taking a family hostage after robbing Deano's Casino early Friday morning.