http://losangeles.cbslocal.com/2016/...s-quit-school/
Long Beach Student Says Violent Campus Attack Left Her So Traumatized She's Quit School
February 20, 2016 6:54 PM
[Editor's Note: Graphic images accompany this video]
LONG BEACH (CBSLA.com) —
A Long Beach City College student said she was so traumatized by an attack on campus 11 days ago, she's quit school.
She spoke Saturday to CBS2's Greg Mills.
The incident, she said, was all over a mobile phone.

A bandage covers deep scars that are stitched up. You can also see a large bruise on her eyelid.
"I'm just scared," Carolina Herrera says.
Herrera says her emotional well-being can't be patched up as quickly as the scars, cuts or bruises.
"I can'tgo to sleep. I wake up in the middle of the night having panic attacks," she said.
The incident happened on February 9th, a Tuesday. She was leaving a night lecture in Building K on the Long Beach City College campus — and talking to a friend on her cellphone — when she says
a man
walking past grabbed her.

"He grabbed my phone and started beating me with it," she said.
http://abc7.com/news/young-woman-bea...ought/1208627/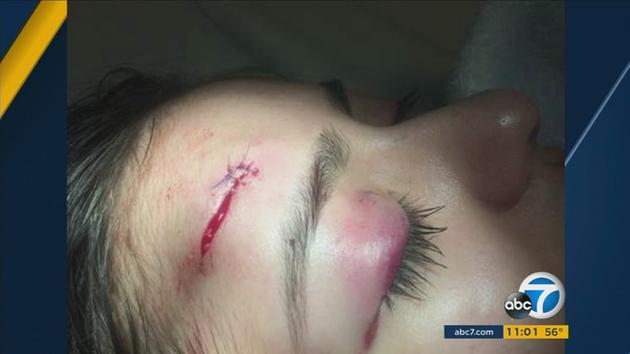 Quote:
The suspect was described as a black man in his early 20s, between 5 feet 7 inches tall to 5 feet 8 inches tall and weighs about 150 pounds. He was last seen wearing a black shirt with horizontal stripes on half of his shirt, along with black pants.