https://www.13newsnow.com/article/ne...1-aff56ed13305
Police searching for man accused of murder in Newport News shooting
A 23-year-old man is wanted for murder in the death of a young woman in Newport News.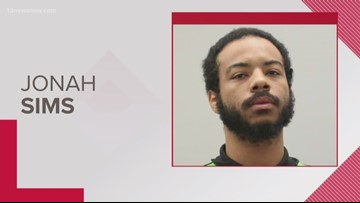 Updated: 2:39 PM EDT September 17, 2019
NEWPORT NEWS, Va. —
Newport News police have identified the man believed to be responsible for the shooting death of a woman on Monday night.
Warrants were secured for
23-year-old Jonah Dwight Sims
who was charged with first-degree murder, possession of a firearm by a felon, three counts of use of a firearm during the commission of a felony, malicious wounding, burglary with intent to commit a felony and discharging a firearm within a residence.
Officers were called to a shooting in the 600 block of Dresden Drive at 9:12 Monday night.
Police said
two people were shot inside a home. A man was taken to the hospital with non-life threatening injuries for further treatment, but a woman was pronounced dead at the scene.

The woman was identified as 24-year-old Kayleigh Christian Ellifritz.
https://www.facebook.com/kayleigh.fr...xKw3&tn-str=*F
Kayleigh Ellifritz
Intro
Wise men lay up knowledge: but the mouth of the foolish is near destruction.
Proverbs 10:14 KJV
Lives in Newport News, Virginia
From Newport News, Virginia
Single
Pronounces name KAY-lee E-lif-rits
Kayleigh Ellifritz's photo.
Kayleigh Ellifritz updated her cover photo.
September 11 at 5:34 PM ·
Image may contain: 1 person, smiling, child and indoor