https://www.13newsnow.com/article/ne.../291-622107658

Nine indicted for violent grocery store robbery sprees in Chesapeake, Virginia Beach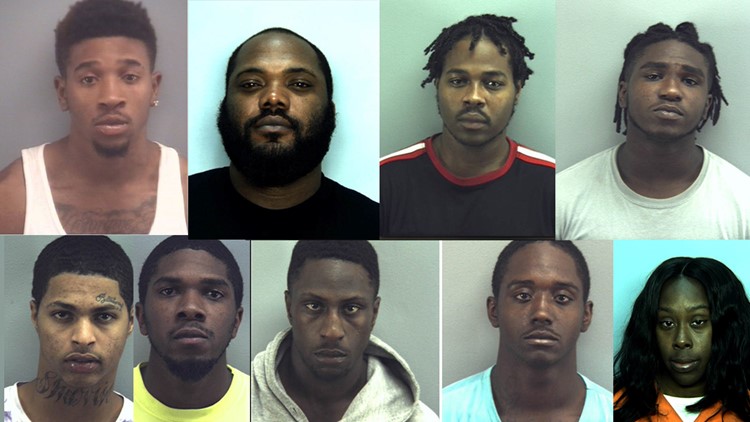 Updated: 4:18 PM EST December 7, 2018
NORFOLK, Va. (WVEC) —
Nine people have been charged by a federal grand jury for their respective role in a series of violent grocery store robberies in Chesapeake and Virginia Beach.
The individuals worked in at least six-person teams and robbed a Food Lion in Chesapeake on September 25, a Food Lion in Virginia Beach on September 29, and a Harris Teeter in Virginia Beach on October 3 while armed.

The teams involved an inside and outside lookouts, a getaway driver, and two gunmen. The teams used police scanners to monitor law enforcement activity, according to allegations in the indictment.
The individuals would use encrypted applications and earpieces to communicate with one another during the robberies. The inside-lookout would find and identify the store manager, initiate the robbery, and communicate the position of the manager to masked members of the conspiracy who entered the stores with firearms.
During each robbery, the gunmen demanded the managers open the grocery store safe. In the final robbery at a Harris Teeter in Virginia Beach, one of the gunmen shot the store manager.
The indicted individuals and their charges are as follows:
Devonta Doyle, aka "Vontay",
22, 3x Robbery; 3x Using a Firearm During a Crime of Violence; Felon in Possession of a Firearm
Cato M. Battle
, 18, 2x Robbery; 2x Using a Firearm During a Crime of Violence
Willey E. Brooks, Jr., aka "Wally",
26, 2x Robbery; 2x Using a Firearm During a Crime of Violence
Darrius A. Heuser-Whitaker
, 19, 2x Robbery; 2x Using a Firearm During a Crime of Violence
Monica Perkins,
29, Robbery
Brennan K. Smith, aka "Dub"
, 22, Robbery; Using a Firearm During a Crime of Violence
Brandon C. Tisdale, aka "Dot, GM"
, 20, 3x Robbery; 3x Using a Firearm During a Crime of Violence
Trevor L. Tisdale, aka "T"
, 24, 2x Robbery; 2x Using a Firearm During a Crime of Violence
Keonte K. Yorkshire, aka "Tae"
, 21, 3x Robbery; 3x Using a Firearm During a Crime of Violence