https://www.myrtlebeachonline.com/ne...233203856.html
Update: Father, son killed in Waccamaw Bingo shooting, robbery, family says
Updated July 27, 2019 06:09 AM
A father and son were shot and killed at an Horry County bingo parlor
Friday night, their family told The Sun News.
"I just don't know why anyone would kill them," said Glenda Johnson.
Her husband, Steve, and her son, Sparky, were the two that were killed
, she said. "They have turned our world upside down."
Johnson stood outside of the Waccamaw Bingo off U.S. Highway 501 an hour after the 10 p.m. shooting, crying as she watched the scene unfold. She kept saying "I gotta get inside" as friends and family comforted her outside the parlor.
The Johnson family has owned the parlor for about 30 years.
As of early Saturday, police continued their efforts to find the suspect and released photos of the person.
The suspect is a black man who wore all gray clothing.
UPDATE: Coroner IDs victims in Waccamaw Bingo shooting
Updated: Jul 27, 2019 / 06:28 PM EDT
MYRTLE BEACH AREA, SC (WBTW) – The Horry County Coroner's Office has identified the two victims in Friday night's deadly shooting at Waccamaw Bingo.
Stephen "Steve" Johnson, Sr., 73, and Stephen "Sparky" Johnson Jr., 46, were killed after an attempted robbery ended with gunfire
, according to a press release from Horry County Deputy Coroner Michelle McSpadden.
The two men were father and son and from Sumter. The pair owned the bingo hall.
https://www.stephensfuneralhome.org/...elebrationWall
Stephen L. "Steve" Johnson, Sr.
February 1, 1946 - July 26, 2019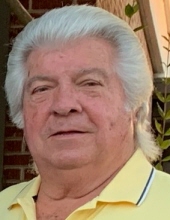 https://www.stephensfuneralhome.org/...r?obId=5531390
Stephen L. "Sparky" Johnson, Jr.
September 9, 1972 - July 26, 2019