http://www.kmov.com/story/38422884/t...hers-day-cards
Target apologizes for 'Baby Daddy' Father's Day cards
Posted: Jun 14, 2018 5:19 AM PDT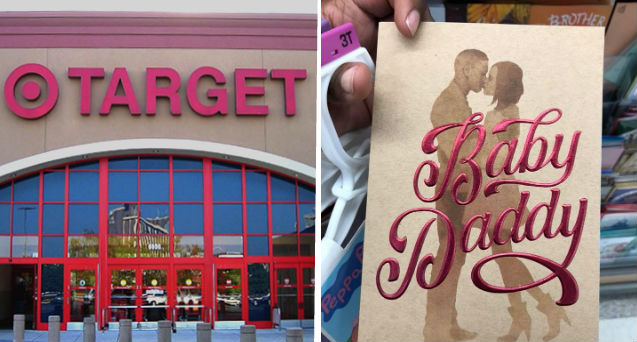 (Meredith) --
Target has apologized for selling "Baby Daddy" greeting cards ahead of Father's Day after upset customers called them "insulting."
A shopper named Takeisha Saunders first posted an image of the card on May 31 and claimed it was the only card depicting a black couple.
"You CANNOT be serious Target!!!! Really!!!?!!!!? This was the only Father's Day card that featured a black couple!!!!!!" she wrote in a Facebook post.
One commenter pointed out that the inside of the card used the words "husband" and "father," and included a "Happy Father's Day" greeting. Still, Saunders said it doesn't excuse the culturally insensitive term displayed on the front of the card.
"It's not sweet or nice. It's a term used to describe a deadbeat or absent parent," she wrote.
Earlier this week, customers also took to Twitter to call out the retailer for selling the cards:
"Seriously @Target???? Baby Daddy is not a term of endearment. This is an insult to black fathers and a slap in the face to the African American community as a whole. There are plenty of black men that are EXCELLENT FATHERS, not "baby daddies"!!!!
-Licia Yvette (@MsLiciaYvette, Twitter)
Target responded to customers' concerns in a Wednesday morning tweet, saying it never intended to offend shoppers.
https://www.facebook.com/takeisha.ro...08719351346850