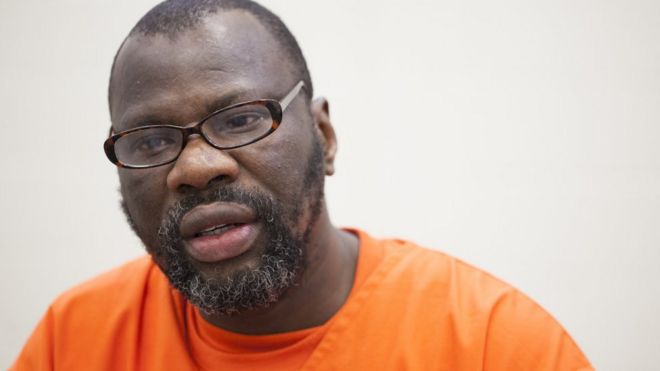 Canadian officials used Ebrahim Toure's DNA in an attempt to establish his nationality
http://toronto.nooneisillegal.org/node/1024
This is Ebrahim Toure. He has been in prison for five years. His parents are both dead. He is estranged from his siblings. He has severe mental health illnesses. And on May 23rd, the federal government of Canada will be in court fighting to keep him jail. Join him on May 23rd in Toronto to demand his freedom.
The government says he shouldn't be released because they can't confirm who he is. They say he lied about his name. They say his name is not Toure, it's Bakaba Touray.
Ebrahim is functionally illiterate
Canada says it is using DNA websites to identify some migrants
https://www.bbc.com/news/world-us-canada-45023505
Canada is using DNA and commercial genealogical sites to help determine the nationality of migrants whose origin is in question.
The Canada Border Services Agency (CBSA) has confirmed the use of DNA testing "when other avenues of investigation have been exhausted".
The agency could not confirm how frequently such techniques are used.
One Canadian immigration lawyer says he is personally aware of a handful of such cases.
CBSA spokesman Jayden Robertson said the agency uses DNA testing to assist "in determining identity by providing indicators of nationality
"The CBSA obtains consent from the clients before submitting their information to DNA websites," he said in a statement to the BBC.
Toronto-based immigration lawyer Subodh Bharati says he is concerned about how well the privacy of those whose DNA has been collected is being protected.
One such case involved Mr Bharati's client Franklin Godwin, who arrived in Canada in 1994 on a fraudulent Bahamian passport and requested asylum after disclosing to immigration officials that he was Liberian. He was granted refugee status and permanent residency.
He later lost his permanent residency status after being convicted on various drug charges.
Canada sought to deport Mr Godwin in 2003 and in 2005.
Liberia twice denied him entry despite issuing him travel document. In the latter instance, officials claimed he was not Liberian but Nigerian.
Mr Godwin maintains his Liberian nationality but Canada is seeking to confirm his identity.
In 2017, while being held in detention by the CBSA, officials conducted a linguistic test, an interview about his knowledge of Liberia and a DNA test.
Using genealogy websites, they found two distant relatives who claimed Nigerian ancestry and contacted them.