https://www.dailymail.co.uk/news/art...les-Mamou.html
Woman, 54, has spent £8000 visiting convicted killers on death row including 'really funny man' Charles 'Chucky' Mamou who murdered two people in 1998 and is awaiting execution by lethal injection in Texas

Mary Hardiman, of Cheshire, this year visited Charles 'Chucky' Mamou in Texas
Mamou killed two people in 1998 - including 17-year-old Mary Carmouche
Mrs Hardiman said her visits are about 'finding out who these people really are'
She has spent the last four years writing letters to her three pen pals on death row, and is hoping to soon fly to Arkansas to meet her third killer in the flesh
Updated: 09:16 EDT, 9 October 2019
Mary Hardiman, from Stockport, is pictured here with Charles 'Chucky' Mamou, who she says is a 'really funny man'
. He was convicted of killing a woman after a bloody shootout during an apparent botched drug sale
Mrs Hardiman
has spent the last four years writing letters to three pen pals on death row
'Chucky is definitely more than his crime, he claims he is innocent
, and I have visited him seven times,' said Mrs Hardiman
CHARLES 'CHUCKY' MAMOU JUNIOR
Charles Mamou Jr, now 45, was involved in an apparent botched cocaine deal that ended with three deaths along a street near the Houston Astrodome in 1998.
In December that year Mamou and two others arranged a meeting with three men to buy cocaine in a shopping mall car park - but both groups were planning to rob one other, court records reveal.
When the two sides met on Lantern Point Drive, gunfire broke out and three men were shot, the Houston Chronicle reports.
Mamou shot and killed one of the men. A survivor told police
Mamou had kidnapped 17-year-old Mary Carmouche, who was with the other group, and fled in a stolen car.

She was later shot after being forced to perform a sex act for Mamou,
prosecutors said.
An electric company meter reader found her body in the back garden of an empty house.
Police arrested Mamou in his native Louisiana and he went to trial in 1999.
He was sent to death row aged 24 for abducting, raping and killing Ms Carmouche.
Prosecutor Claire Connors had called Mamou a 'vicious, ruthless, cold-blooded' murderer.
https://murderpedia.org/male.M/m/mamou-charles.htm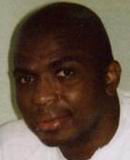 Summary of incident
On 12/07/98, in Houston, Texas, Mamou shot and killed a black male during a drug deal. Two other male victims were also shot during the incident.
Mamou drove another victim, a black female to an abandoned house and shot and killed her. Her body was discovered two days later.
Co-defendants
None
Race and Gender of Victim
Black female and black male